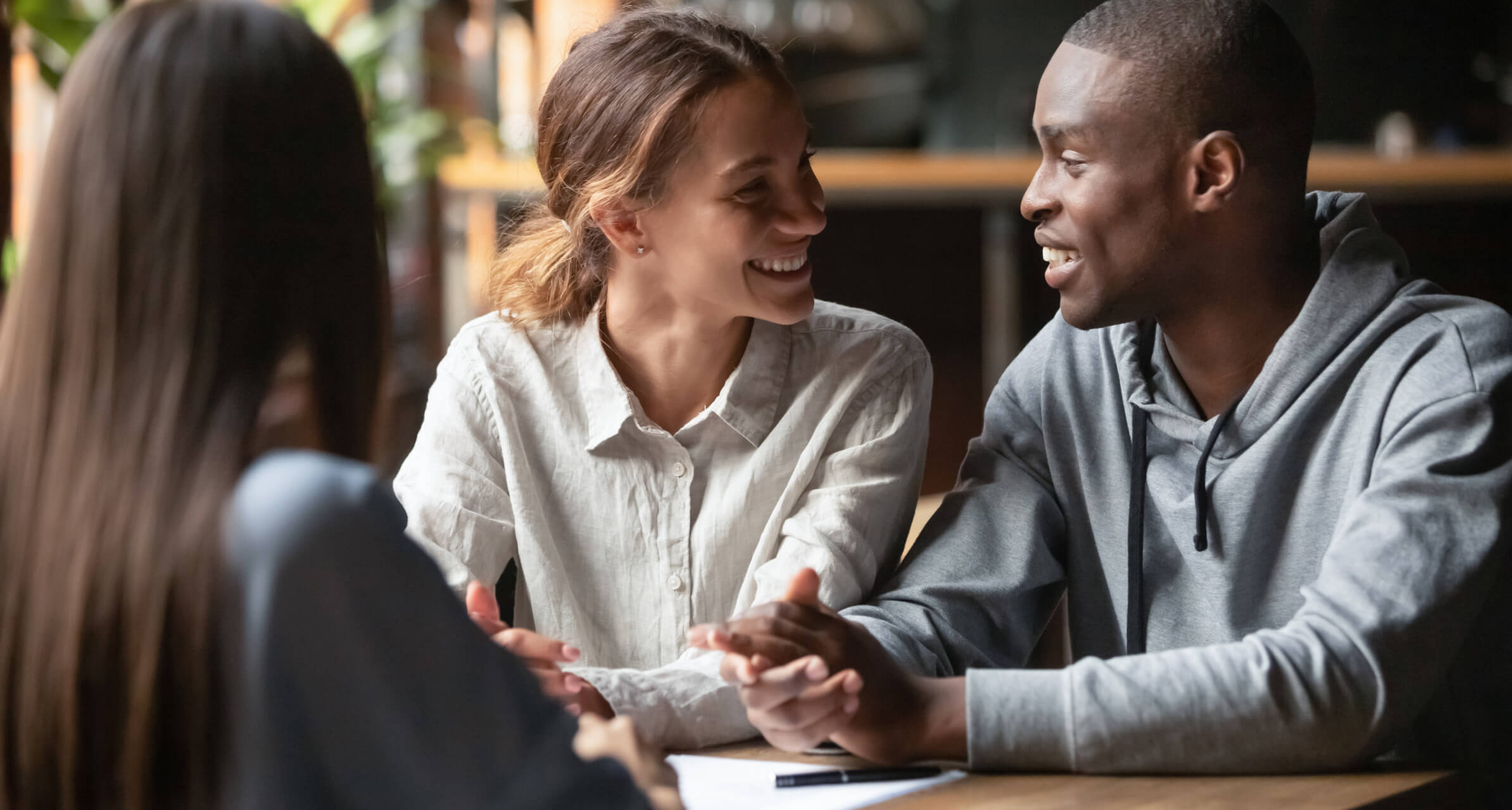 Estate agent fees explained
A good estate agent will help you find the right buyer and get the best possible offer for your home. Read on to find out more about estate agent fees, including what they cover, how to negotiate them and how to choose the right agent for you and your property.

Key takeaways
Estate agent fees are typically between 1% and 3.5% of your house sale, or a flat fee (we'll sell your home for free of course, but more on that later)
Take your time to compare estate agent fees and the services they include
Beware of hidden costs, and read your contract before you sign
Choose an estate agent based on experience and service - the cheapest isn't always the best (but neither is the most expensive)
Traditional estate agents usually charge a percentage - typically between 1% to 3.5% - of the price your property sells for as their commission. But online estate agents tend to offer flat-fee rates instead. And some estate agents say they don't ask for fees but charge separately for the services you want. We don't think that's right. We'll sell your home for free, and lay out all of the optional extras so you can pick and choose what you actually want — with no nasty surprises. But ultimately, it's your decision and you have to do what's best for you, so it's worth taking your time to compare before deciding.

This varies from agent to agent, but you can usually expect estate agent fees to cover some of the following:
A visit and valuation of your property - based on their local market research, experience and post-sales data.
Professional photos and potentially a video tour of your property- we provide award winning 3D interactive tours to showcase your property in its best light.
An online listing to market your property, including the photos, floorplan and description.
Marketing your online listing on the agent's own website, social media channels, third-party websites - such as Zoopla and Rightmove - and direct mail to the agent's customer database.
Offline marketing, for example, a for sale sign outside your house and door-drop leaflets.
Organising and managing viewings.
Acting as a go-between for you and your potential buyers and negotiating an offer.
By law, estate agents must tell you what's included in their fee, but checking what isn't included is just as important. You don't want to assume something's covered only to be hit with an additional cost further down the line. So when comparing estate agent fees, ask for information about all 'added extras' upfront. (We put all of our pricing right on our website, so always know what you're paying for — or you can sell your home for free.)

And think carefully about whether some of the optional extras are right for you before you agree. For example, some agents will offer to arrange your Energy Performance Certificate (EPC) for you - which you must have legally to sell your home. But you'll need to pay for it upfront, and you could save some money by shopping around and buying it yourself direct.

Here are some examples of hidden costs to look out for:

Agreed selling price
Great news - your house has sold for well over the asking price! But if you're paying your estate agent fees based on a percentage commission, you might now need to pay more than you'd planned.

Multiple agents
Want to use more than one agent to sell your property? You could benefit from twice as much marketing, but estate agents often charge a higher rate for shared listings.

Withdrawal fees
Some estate agents may charge you a withdrawal fee if you change your mind about selling or pull out of a sale. Ask about this before you start working with an agent.

VAT
The Property Ombudsman states, '[estate agent] fees must be shown inclusive of VAT alongside a statement confirming that VAT is included'. But it's worth double-checking it's included in any quotes you get (Source: The Property Ombudsman).


It's a good idea to ask your estate agent what you're getting for your money. Get written quotes from multiple agents with exactly what's included to arm you with the information you need to compare fees.

Estate agents who quickly drop their fees significantly are a potential red flag. After all, these people would be negotiating with potential buyers on your behalf if you choose them. It also suggests their fees aren't realistic in the first place. A good agent can justify their prices and show you why they're worth the money.

Remember - who you choose should come down to expertise and service. The estate agent charging the lowest fee isn't necessarily the right one to go for. But an agent that charges more isn't always better than a less expensive one. So weigh up the costs with which estate agent is likely to get you the result you want, and go with what's right for you. And if you have any questions about how we work or what's included, we're here for you. Just ask.

One key difference between traditional or high street estate agents and online ones is how they charge for their services. Traditional agents typically work on a percentage commission on the property sale price. In contrast, online agents tend to charge a flat fee. As a result, you'll usually pay a traditional agent once your property is sold. But online agents are often paid upfront or at another agreed point during the sale.

At Purplebricks, we're a hybrid agency - with all the local knowledge of the high street, and the convenience of an online agent. And we'll sell your home for free. We have optional extras, but they're just that — optional. Hosted viewings, premium marketing, and every extra? Sure, choose one of our bundles. Want to sell your home for free and use our app to manage viewings? That works too. We're here for you, no matter how you want to sell.

So when looking at agents, be sure to compare what you're getting for the fee — in terms of services, experience and quality. Focus on what you need from an agent and how much you're willing to pay for it.
Estate agent fee calculator
Use our handy tool to compare traditional estate agent fees with Purplebricks, to find out how much you could save.




Need clarification on your estate agent contract? Here's what it all means…

Open-ended agreements
This means the estate agent can claim commission if you sell your house to someone they originally introduced to your home - even if it's months or years later.

Multi-agency agreement
This is where you can instruct multiple estate agents to sell your house (rather than one agent, known as sole agency - see below). They'll all market your property at the same time, but you only pay the one who finds the right buyer. Estate agents who enter these agreements tend to do so based on higher fees.

Sole agency agreement
The most common type of estate agent contract. It means the agent is the only one with permission to sell your home (during the contract term). But if you find a buyer yourself, you don't have to pay the estate agent fees.

Sole selling agreement
Similar to the above, you're only working with one estate agent. However, in this type of contract, the estate agent can claim a fee even if you find a buyer.

Ready, willing and able purchaser
This means you'll need to pay the estate agent if they find a buyer even if you choose to pull out of the sale for any reason.

Notice period
This is how long you must wait between telling your estate agent you want to end your contract with them and it ending. You may also need to factor in a tie-in period - see below.

Tie-in period (or contract length)
This is how long you're committed or tied to the contract from the date you first signed. If you want to end your contract, you'll need to add your notice period to any outstanding tie-in period (see above).

Who pays estate agent fees?
Estate agent fees apply to house sellers. Home buyers don't need to pay estate agent fees.

Do you have to pay estate agent fees if you sell privately?
Usually, no. You won't have to pay a fee if you sell your house without listing with an estate agent. But if you've already listed with an agent and then sold privately, you need to check the terms of your contract in case you still have to pay a fee. Examples where this may apply include if the buyer was introduced to your property by the estate agent or you signed a sole selling agreement (see above).

What is the average cost of estate agent fees?
In the UK the average estate agent fee is 1.18% + VAT. (Source: The Advisory).

How do you pay estate agent fees?
When your estate agent fees are due to be paid will depend on the agreement you have with the agent. Some charge upfront fees, while others ask for a commission once the property is sold. Either way, you'll usually receive a bill or invoice to pay and can make payment with a credit or debit card, or bank transfer (depending on the amount owed). Of course, if you sell for free with us then you won't be paying anything. Not a single pound. Not a penny.

Are there minimum estate agent fees?
Some estate agents charge a minimum fee of around £1,000. Ask your agent if they do this before you sign a contract. (With us, there's definitely no minimum fee.)

Can you sell your house without an estate agent?
Yes, as long as you're happy to price, market and negotiate your house sale yourself. But it can be a lot of work, so many house sellers find it easier to use an estate agent.

Leading experience, no commission
At Purplebricks, we'll sell your home for free. No more high fees, no more jargon. Our experienced team of local experts can handle everything from your valuation to sale negotiation. Ready to go?

Book a free house valuation or sell your home with Purplebricks today.